Home
>>
Articles
>>
Metal Finishing - Plating - Anodizing
Machine Shop Plating&Anodizing - Bring it Home
IPEC Staff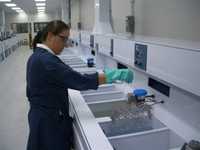 Outsourcing electroplating and anodizing is becoming a big problem for small and medium sized machine shops today. Reliable suppliers are getting harder and harder to find.

This article looks at some of the problems owners face along with some unique opportunities to realize increased profits and quality by bringing electro plating and anodizing in-house.

RELIABLE PLATERS AND ANODIZERS ARE HARDER TO FIND

The trend in job shop plating and anodizing today is toward specialization and away from offering a wide range of processes to machine shops. As specialization increases many processes are becoming more difficult to outsource. The machine shop owner has to look further and further away to find quality vendors.

Finding a reliable source for processes such as cad plating (QQ-P-416) is becoming a big problem. As outsourcing becomes more difficult the machine shop's ability to accept contracts that require these finishes are greatly reduced.

It was not uncommon twenty years ago to visit a typical plater and find dozens of processes that were offered. I could walk the plater's floor and see covered process tanks filled with specialty chemicals just waiting for an order.

But times have changed. Much of the problem comes from pressures placed on the electro plating community by government regulations. Plating shops are constantly being pressured to reduce their chemical inventories and emissions - for example,cadmium in wastewater. When this occurs the plater is often faced with committing large sums of money and precious floor space for treatment equipment to selectively remove cadmium from his wastewater. He is forced to make a choice, spend the money to buy the equipment or stop offering cadmium plating. In a situation where cadmium may only make up 5 or 10% of gross sales the choice to stop plating the offending metal is obvious.

IN-HOUSE PLATING AND ANODIZING IS A NEW TREND

With a shrinking number of available vendors qualified to plate and anodize, we are begining to see a counter trend emerge - Small modular plating&anodizing tools are becoming popular. These systems are designed around the machine shop's specific needs.

This emerging trend is becoming possible because of new techniques in water and air pollution control which make these new plating tools more environmental friendly. This new generation of tools include fully self contained process units that house the tanks hold the chemistry and all ancillary components. Fume control, spill containment and wastewater treatment are either build into the tool or stand along side. Zero discharge to the sewer helps eliminate the concerns of local agencies and extensive monitoring.

A NEW GENERATION OF STAND ALONE PLATING SYSTEMS


These "modular" or console plating and anodizing tools take up much less floor space and are forklift able. A typical module designed to electro plate QQ-P-416 cadmium can process parts ranging from a 12" x 18" box frame to hundreds of small parts and fasteners. This modular system would have a foot print of approximately 14 feet long by 8 feet wide. The total cost for a system like this would range from $35,000 to $60,000 depending upon the configuration and the need for additional processes like chem-film. Leasing is also becoming popular as lenders are taking a second look at these machines.

Training employees to operate a plating or anodizing tool is somewhat different that teaching them how to operate a CNC mill. However, the skill-level of employees necessary to electro-plate is significantly lower than machinists. Training and operating a plating tool is not much different than operating aqueous cleaning, deburring and vibratory finishing tools.

REGULATIONS AND PERMITS FOR THE PLATER&ANODIZER

Regulations and permiting processes are known and understood now more than ever. Permitting a plating or anodizing module varies with the processes involved. In the case of type II anodize (Mil-A-8625) local fire departments and building departments require specifics as to contents of the tanks and methods of containment and storage. Since anodizing chemistry contains no flammables or highly toxic chemicals permitting problems are greatly reduced. Two primary areas of permitting concern are air pollution control and wastewater discharge.

Type II anodize emits fine particulates of sulfuric acid into the atmosphere and depending upon the location of the discharge stack may require a control device like a scrubber or mist eliminator. For small anodizing systems however this is not usually a prohibative expense. Control devices can be built into the modular tool.

Wastewater is also greatly reduced by waste minimization techniques such as fog rinsing and automated rinse water recycling systems. Many such systems are designed for Zero discharge to the sewer by recycling the rinses back to the system and hauling small quantities of spent concentrates - much like the disposal of spent coolant and cleaners.

Each agency is of course different but careful planning and choosing the right vendors makes most projects go smoothly. We recommend that you only purchase plating or anodizing tools from a vendor(s) who will help you through the permitting process with detailed drawings and process descriptions.

___________


In summary - The machine shop owner and manager today have the real option of bringing electro-plating and anodizing into his facility. With this new generation of processing equipment and tools - captive plating and anodizing can add significantly to the bottom line.

If Aluminum Anodizing is what you are interested in, Click Here for more information and for our free email class for Aluminum Anodizing.

If Titanium Anodizing is what you are interested in, Click Here for more information and for our free email class for Titanium Anodizing.



______________________


IPEC Global has been designing and building electro-plating and metal finishing systems for the past 35 years. We have also owned and operated job shop plating operations. Our experiance includes Mil-spec and ASTM metal finishing operations in dozens of industries.




---
© IPEC Global, Inc. All Rights Reserved.